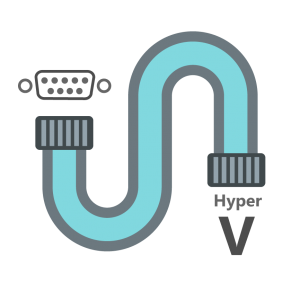 PipeDream (for Hyper-V)
With PipeDream, guest virtual machines can use serial ports on the virtualization host (or another computer). PipeDream works using Hyper-V's named pipe support, so it doesn't need a network to communicate: set the pipe name in Hyper-V, then run PipeDream to connect the serial device to the guest VM.
Disclaimer

: PipeDream works with Microsoft's Hyper-V but is an independent software product.  We are not affiliated with Microsoft, and our use of the term Hyper-V is not intended to indicate any endorsement from or affiliation with Microsoft Corporation.
Download
You can download the beta version of PipeDream here.
You'll also need the Visual C++ redistributable for Visual Studio 2015, which you can download here (select the x86 version, or both).
Installation
You can usually perform this installation on a live virtual machine, without needing to halt or shut it down.
First, you need to setup a serial port for your guest virtual machine (vm).  It is best to use a Generation 1 vm.
Start the Hyper-V Manager and bring-up the Settings for the guest vm where want to provide the serial port.  (To do this, highlight the vm in the Virtual Machines list, then click on Settings on the right pane).
In the new window, select COM1 or COM2 from the hardware list on the left.  This is the serial port where the guest vm will be able to access your serial device.  In other words, this port appears on the guest vm, not the host.
Attach the guest's serial port to a pipe named PipeDream, then press OK.  (To do this, click on Named pipe and enter "PipeDream" for the pipe name, as shown in the picture). If your serial device is on a remote computer, check the Remote computer checkbox and enter the computer name.

Now download PipeDream and run it on the computer where the serial port is connected (usually the host OS, or the remote computer if you're using a remote pipe).  You'll need the Visual C++ redistributable for Visual Studio 2015 (x86), which you can download here (or Google for it).
License
The free version is limited to COM3 at 9600 baud, RTS/CTS flow control, and is free to use for non-commercial purposes.  For the full version, with configurable ports, traffic capture, and other features, please contact us.
Articles related to serial ports under Hyper-V
https://social.technet.microsoft.com/Forums/en-US/158824bb-a41b-4f0e-a6f9-b5e9e5499fc2/usb-pass-through-com-port-via-named-pipes?forum=winserverhyperv
If you have a Gen 2 vm, you'll need to make sure that Secure Boot is turned off, and you'll need to use Powershell to create a serial port.