Introduced in 2006, Optometris is a client and inventory management solution for opticians, optometrists, and optometry studios.  Access your client data using a desktop, laptop, tablet, or phone while at the office or on the go without worrying about maintaining software or backing up and securely maintaining your data.  Optometris complies with US and European confidentiality and medical information storage laws.  A one-stop solution for anyone in the optical field, Optometris is reasonably priced to help out small and sole-proprietor businesses.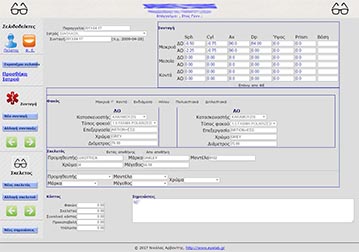 Optometris keeps track of client contact and medical information, letting you quickly see latest and historical prescriptions, lense, frame, contact lenses, and supply orders.  For extra flecibility, you can use the built-in inventory tracker to quickly pull-up stock items - or, you can manually fill-in order details too!
Perform basic accounting and year-end reporting tasks for stock and non-inventory items.  Keep track of sales and profits, easily track inventory, and instantly generate sales, and delinquency reports to help you manage your business.